Proceans High Performance sailing lines comply with British Standard BS 1891:1998 and European Standard EN 1891 for low stretch kernmantel ropes. View Standard in PDF Format.
View the Test Report for 12mm High Performance Sailing Rope
View the Test Report for 14mm High Performance Sailing Rope
Proceans high performance double braided polyester sailing ropes are manufactured by The Huakai Ocean Science and Technology Company.
Huaki is the appointed supplier of rope for the Volvo Round The World Race
Huakai is a highly respected manufacturer of quality, patented rope products, predominantly supplying aerospace, underwater research, search & rescue organisations and the Navy in various countries. Huakai has been continuously manufacturing rope since 1922.
High performance double braided polyester is suitable for all applications where low stretch and low creep is essential such as highspeed winching, halyards and sheets.
Proceans high performance ropes have a unique, patented high strength polyester core which grips both layers together preventing slip or stretch.
All rope components are manufactured on high speed, imported European braiding equipment using A grade filaments. Each filament shipment is multi-checked against standard for:
Weight
Lineal strength
Twist strength
Melting temperature
Moisture resistance
UV resistance
Quality assurance is performed on finished ropes by batch to ensure breaking strains meet published standards.
Proceans high performance polyester double braided rope:
A single core of patented, non slip, hollow braided white polyester filament. The core quality is paramount to the breaking strength.
20% heavier than standard double braided polyester rope
A cover layer which increases the handling, twist minimization and abrasion/UV resistance quality of the rope.
Excellent knotability
Complies with British Standard BS 1891:1998 and European Standard EN 1891 for low stretch kernmantel ropes.
Low stretch
Low creep - 4 X 24 braid cover.
High UV rating
Excellent abrasion resistance
Rot, mildew and chemical resistant
Soft feel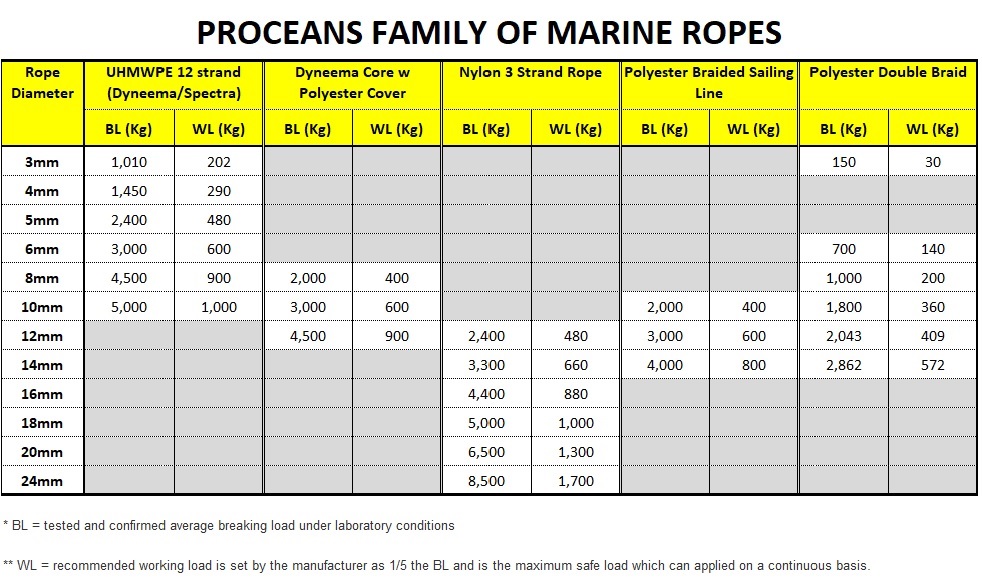 (HPSAILREEL)
| | |
| --- | --- |
| SKU | HPSAILREEL |
| Brand | Proceans |
---
Others Also Bought
---
More From This Category