BILGE PUMP INSTALLATION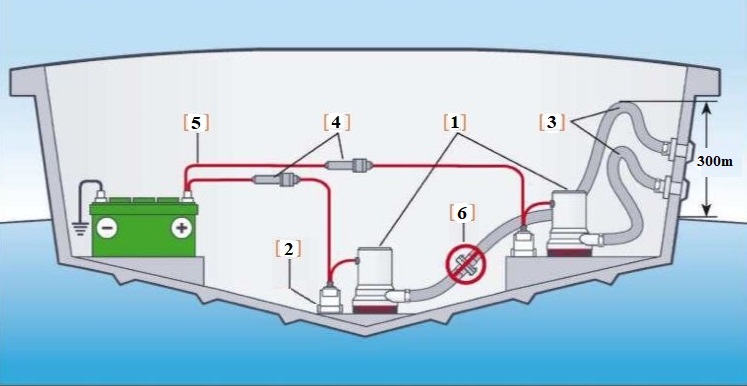 Bilge pump rating should be calculated based on the length of run and head (imaginary vertical height from bilge pump outlet to the top of the riser loop) in [3] above.
Please note: GPH (LPH) and Maximum Head are always calculated in optimum test conditions. As a rule of thumb maximum head and GPH (LPH) should be calculated at 60% of the rated head and output. This will ensure you are covered for both the run length and head height. For example; if you want an output of 1100GPH. Then fit a 2,000GPH bilge pump. A 4 meter rated maximum head is probably only effective to 2.4 meters with a horizontal run.
Whitsunday Discount Marine recommends and sells SeaFlo quality bilge pumps.
Always affix the base of the bilge pump's debris filter to the hull, ensuring the pump does not float away when water is present. Either screw or glue and check the bilge pump can be easily removed from the affixed debris cover.
Before doing any electrical work, ensure the fuse has been disconnected so there is nil risk of injury or fire. Use heat shrink connectors for the wiring. Ensure there is a waterproof seal.
Constantly check your bilge pumps operate unhindered by raising the float switch. Frequently remove the bottom debris filter covers from your bilge pumps and clean the impeller for hair and debris.
Use good quality PVC bilge hose with embedded nylon helix coil. This creates a smooth internal surface for water flow and allows easy bending especially for the riser loop without kinking. Whitsunday Discount Marine recommends and sells Mako bilge hose.
Use quality fibreglass reinforced nylon thru-hulls with hose tail ends for the discharge point on the hull of your boat. Always match the thru-hull and hose with the outlet bilge pump's outlet port. Whitsunday Discount Marine recommends and sells SeaFlo quality nylon thru-hulls.
Use AISI 316 marine grade stainless hose clamps. Single hose clamps will suffice as the flow is not under pressure. Whitsunday Discount Marine recommends and sells Proceans hose clamps.
[ 1 ] Bilge pumps: always use a minimum of two (2) bilge pumps. The second being placed a little higher than the first. This ensures the second operates only in a true emergency. Place bilge pumps wherever water can accumulate. This maybe engine rooms, bulkheads, cabins, soles od centre consoles etc.
[ 2 ] Float switches must be oriented fore to aft. The hinge should always face forward. This prevents unintentional operation during climbing to the plane or heavy swell. Never orientate across beam.

[ 3 ] Prevent siphoning by creating a riser loop (bend) in the bilge hose. The top of the riser loop should be approximately 300mm above the waterline (not thru-hull).
[ 4 ] Do not use excessive size fuses. Always refer to the manufacturer's guidelines for fuse size. The fuse is always placed in the active circuit between the battery and the float switch.
[ 5 ] Bilge pumps are the only circuits which should be directly connected to the battery, bypassing any battery isolator switches. This ensures bilge pumps are always available as needed when moored or under power.
[ 6 ] Do not use check valves or non-return valves. If the remaining water in the bilge hose runs back and sets off your float switch, then relocate the float switch to a higher position.